A smart lifting device
The LionGrip®'s smart force-sensitive handle makes sure the lifting arms follow your slightest movement up and down.
The smart lifting device LionGrip® is easily adapted for different applications. On the circuit board, there are a lot of built-in functions and presets, that, in combination with custom-made grippers guarantee both safety and optimal handling.
Examples are: limitation of lifting power, locking of gripper jaws when load is in air, blowing clean the air channels for vacuum grippers, and so on.
Because of the robust and clean design, this lifting device demands a minimum of maintenance and spare parts, which makes it inexpensive to own.
The installation of a LionGrip® is easy and takes little time. To move it is not much work.
Specifications:
Stroke standard: 1m, 1.25m, 1.5m & 2m (other on demand, LG50 1m only)
Arm lengths standard: 2.5m, 3m, 3.5m & 4m (other on demand
Working area: over 400°
Lifting capacity: LG50 up to 70kg, LG80 up to 200kg
Electrical connection: 110V or 230V AC
Air pressure: 6bar
Color: "Any customer can have a LionGrip® painted in any color that he wants as long as it is yellow"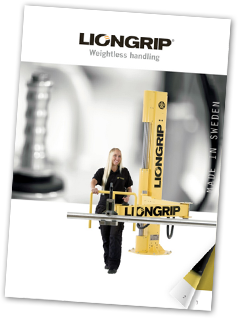 LionGrip® on rails
When you need to move your product between several machines, we can present our exclusive rails solution.
The LionGrip® is placed on a carriage which rolls smoothly in two steel floor rails. The gap in the floor is so little that it is not an obstacle for a pallet truck.
Telescopic LionGrip®
When you need to reach very far our LionGrip® with a telescopic arm is a good option.
We replaced the LionGrip®'s folding arm with a telescopic one in this very special lifting equipment. Now it is possible to reach for example inside a container to load sacks or boxes.
Quick tool change unit
We developed a unit for quick and easy change of gripper.
It even can be delivered with integrated air connections.
The LionGrip® is programmed so that it can sustain four different configurations for four different grippers. It is for example possible to vary the sensitivity of the handle when a gripper is changed.